Welcome to Bewitched Wiki!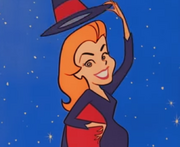 Bewitched
is an American fantasy sitcom television series that follows the life of
Samantha
, a witch who marries
Darrin
, a mortal, and tries to lead the life of a typical suburban housewife per her husband's desire. However, her magical family disapproves of the mixed marriage and frequently interferes in the couple's lives.
The series has known many remakes and spin-offs, such as Tabitha, which focuses on Tabitha, the daughter of Samantha and Darrin, now a young woman in Los Angeles where she works alongside her brother Adam in television.
The Bewitched series was created by Sol Saks under executive producer Harry Ackerman and starred Elizabeth Montgomery, Dick York (1964–1969), Dick Sargent (1969–1972), Agnes Moorehead and David White. It spanned for eight seasons on ABC from 1964 to 1972, creating an enormous universe to explore, with many characters, locations and phenomenons! It continues to be seen throughout the world in syndication and on DVD and was the longest running supernatural-themed sitcom of the 1960s–1970s era. As such, there is much to explore on this wiki, and we aim to document all the facts and mysteries the series has to offer.
Tabitha
was created by
Jerry Mayer
and starred
Lisa Hartman
,
Robert Urich
,
Karen Morrow
,
Mel Stewart
and
David Ankrum
. Although it failed to catch on with viewers and was canceled after twelve episodes, this wiki still offers lots to explore about the show.
April 7, 2021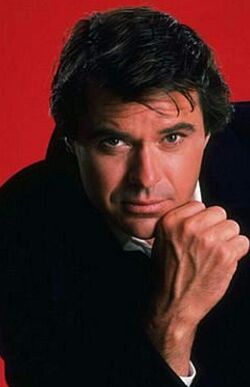 Robert Urich played Paul Thurston, the handsome, but vain and conceited, talk show host on the Bewitched spin-off, Tabitha (1977-1978). Urich starred in fifteen television series over the course of his thirty-year career before his life was tragically cut short by cancer.
Bewitched Wiki is a fan-created encyclopedia for everything related to the series Bewitched and its spin-off Tabitha, supernatural-themed sitcoms of the 1960s–1970s era, as well as the movie and other related media. You will find everything here ranging from character and episode pages, a behind-the-scenes look at cast and crew, mortal and otherworldly locations and organizations, and the magic explained.
We are currently housing 743 articles and 1,266 files. To help, please sign up to create a FREE account or log in if you already have one. Before helping out, we ask that you please read our policies here. If you have any questions about the wiki or helping out, you can ask an administrator, who will be happy to assist you.
We hope you enjoy your time here at Bewitched Wiki!
Bewitched Writer James Henerson Dies:
Obituary in The Hollywood Reporter, June 22, 2020.
Bewitched Guest Star Peggy Pope Dies:

Obituary in Variety, June 2, 2020.
Bewitched Writer Lila Garrett Dies:
Obituary in the Los Angeles Times via Legacy.com, February 19-23, 2020.
Agnes Moorehead as Endora (publicity photo, 1964-1966)
Bewitched Wiki is not in any way, shape or form affiliated with Screen Gems, Sol Saks, ABC or Ashmont Productions.
Copyrights and trademarks for the episodes and other promotional materials are held by their respective owners and their use is allowed under the fair use clause of the Copyright Law.
Community content is available under
CC-BY-SA
unless otherwise noted.