Pleasure O'Riley is the twenty-fifth episode of the first season of Bewitched. The episode was completed by January 25, 1965.
Plot
Darrin and Samantha have a new neighbor, Pleasure O'Riley. She is a sexy and vivacious model who is hiding from her overly jealous boyfriend, the famous pro fullback Thor "Thunderbolt" Swenson. She calls on the Stephenses late one night because she needs protection from Thor, who found her new address. Darrin agrees to help her. When Thor comes to look for Pleasure, Samantha infers that Darrin is interested in Pleasure. When Thor goes after Darrin, Samantha turns Darrin into an elderly woman, whom Thor thinks is Darrin's grandmother. Thor goes to the Kravitzes' house thinking Abner is Pleasure's gentleman friend. Incensed, Thor knocks Abner out and Gladys screams. The Kravitzes and Thor end up on the front page of the morning paper. Pleasure's lawyer put a restraining order on Thor to keep him away, but not before he takes her to the mayor's office for an honor she has received.
Trivia
General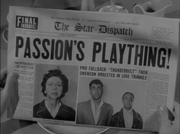 Casting
Cast
Norman Burton as Moving Man
William Woodson as Police Sergeant
See Also
Community content is available under
CC-BY-SA
unless otherwise noted.