Snob in the Grass is the nineteenth episode of the fourth season and the 125th episode of the Bewitched series. The episode was completed by July 10, 1967.
Plot
Sheila Sommers, Darrin's ex-fiancée, returns and she is her usual insulting self. Samantha eventually humiliates her in front of everyone.
The next day, Samantha apologizes to Darrin and he tells her that Sheila deserved it.
Gallery
Trivia
General
There is another butler named Charles in the second season episode, The Girl with the Golden Nose, played by

Owen McGiveney

. The butlers are two different characters, not the same character played by multiple actors as often happens in Bewitched.
The title of this episode is an allusion to the phrase, "Snake in the grass".
This episode is a partial remake of the pilot episode, "I, Darrin, Take This Witch, Samantha".
Casting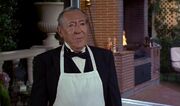 Last role of Kendrick Huxham, who died five months before the first release of the episode
The actress who played the woman talking to Mr. Sommers at dinner was uncredited.
Cast
See Also
References