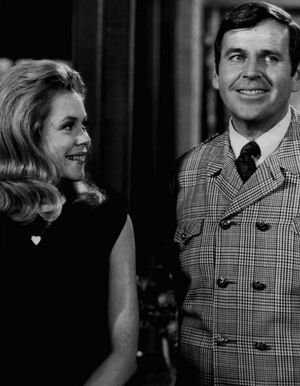 Uncle Arthur is Samantha's uncle and who is the warlock brother of Sam's mother Endora. Uncle Arthur is famous for playing practical jokes and using his magic to do mischievous things which annoy Darrin with his use of witchcraft in front of mortals. Uncle Arthur appears in many episodes through the seasons including The House that Uncle Arthur Built and Samantha's Witchcraft Blows a Fuse. Along with Aunt Clara, Uncle Arthur likes Darrin.  Arthur's first appearance was in "The Joker is a Card" in season 2.  Uncle Arthur is played by Paul Lynde.
Before being cast as Uncle Arthur, actor Paul Lynde appeared in the Season 1 episode "Driving is the Only Way to Fly" as a nervous driving instructor.
Family:
Endora (sister)
Maurice (brother-in-law)
Samantha Stephens (niece)
Tabitha Stephens (great-niece)
Adam Stephens (great-nephew)

Significant other(s):
Aretha (girlfriend)
Appearances:
Community content is available under
CC-BY-SA
unless otherwise noted.